Reblogged for the Public Record. Syrian rebels trained and supported by US/Qatar/Saudi Arabia/Turkey. John McCain directly involved knowing fully well that these Syrian rebels are/will be ISIS fighters.
Uprootedpalestinians's Blog
John McCain leads US delegation of senators on tour to train Syrian rebels
Group met with Saudi and Qatari leaders who support Syria's opposition
Civilians continue to flee rebel-held areas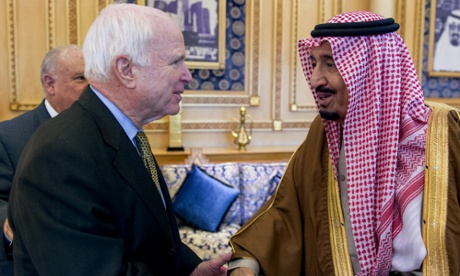 Republican Senator John McCain of Arizona met with Saudi Arabia's Crown Prince Salman on Saturday.Photograph: Uncredited/AP
A delegation of senators led by John McCain have met separately with Saudi Arabia's Crown Prince Salman and the emir of Qatar, as part of a regional tour focused on training Syrian rebels. As they met, hundreds of civilians fled rebel-held areas near Damascus that had been blockaded for over a year.
A message on the official Twitter feed for McCain, Republican of Arizona, said the US delegation met the commander of Saudi Arabia's training and equipment programme and with Ahmed al-Jarba, whom it identified as the president of the Western-backed Syrian National Coalition (SNC). Al-Jarba stepped down as SNC president in July…
View original post 561 more words